Hi everyone! It feels so good to be back blogging & in this online space again! This summer kicked my booty in more ways than one & I ended up taking an extended blogging break! I'm looking forward to this change of seasons going on right now - getting back into a good routine & schedule - blogging included!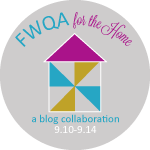 Today I'm super excited to be kicking off a really fun blog collaboration - the Farmer's Wife for the Home project! I know lots of you have seen the Farmer's Wife Sampler Quilt Book or some of the amazing quilts in the
Farmer's Wife Quilt Along Flickr group
. If you haven't - just know that it's a super intense sampler quilt with over 100 individual 6" blocks - some of which are really difficult! It's basically a long & involved quilting project, with gorgeous results, but still, a big investment of time!
Andrea from Knitty Bitties decided to put together a collaboration challenge
featuring some really fun bloggers doing projects featuring just a few of the Farmer's Wife blocks. I jumped onboard immediately because even though I'd been admiring the finished tops & quilts from the Farmer's Wife group, I knew right now wasn't the best time for me to try to complete such an intense project!
The challenge was to take a charm pack of Robert Kaufman Kona solids, along with a few larger cuts of grey & tan solid & make a project for the home. I thought & thought for weeks about what to make - and found the answer staring back at me every day from inside my pantry! Years ago in one of the first swaps I had done, I received an awesome pieced & quilted plastic grocery bag holder using some of my favorite fabrics ever (original Flea Market Fancy & Katie Jump Rope!.) I still have that holder hanging up in my pantry holding plastic bags & the little flash of pretty fabric in my otherwise dull pantry makes me smile almost daily.
Making the blocks themselves was something I initially was pretty intimidated by! I read lots of information in the threads in the
Farmer's Wife Flickr group
(a GREAT resourse for anyone doing this project - started by the adorable
Amanda
&
Angela
), and ultimately decided to paper piece my blocks. With the small size of the blocks (they're just 6" squares!) I decided I wanted mine to be accurate & the best way you can achieve that is with paper piecing.
Paper piecing to me is really fun! I love the crisp, accurate blocks it makes & there's something really satisfying about tearing the perforated little chunks of paper off the back of the blocks. I won't go into paper piecing here, but there's good tutorials online if you don't know how. (Christina has
a great one here
!)
The blocks were challenging at times to make within the parameters of the challenge - that is, only using the charm pack pieces! I had to scrap a few charms that didn't fit in the block I had intended to use them for, and so I just ended up with 4 finished blocks to work with. It ended up OK, though, for the grocery bag holder you just need a quilt sandwich that's 20" x 20", so I sashed my 4 little blocks in some grey fabric & I was good to go!
For the grocery bag holder itself, I used Rachel's
grocery bag dispenser tutorial
. I won't go into the details here (visit her blog!) but I'll tell you it was super simple & fast to make, thanks to Rachel's good instructions.
I did some wavy quilting on the bag holder, deciding to quilt around the blocks themselves to make them really pop. This is my favorite block - I love the purple & orange together!
Now some fun stuff for sticking around for this SUPER long blog post! You have the chance to win this very grocery bag holder as well as the chance to win one of the rest of the projects from the
talented bloggers being featured the rest of the week
! Seriously, I know there's going to be some awesome stuff! Tomorrow my friend Kerri from
Lovely Little Handmades
is posting. You can enter using the Rafflecopter widget:
a Rafflecopter giveaway
A huge thanks to
Robert Kaufman Fabrics
for giving us all the pretty charm packs & other fabrics to play with in this fun collaboration. And thanks to Andrea for inviting me to join in this fun project - I loved having something to kick-start me back into sewing gear & now I want to sew even more - I want to make some more Farmer's Wife blocks for a project I get to keep. :]